Dear Students,
On Saturday morning, you made headlines in the Wall Street Journal. Peggy Noonan told the world what I already knew. You are hardworking, less cynical, more earnest. You are mature, gracious and welcoming. And smart.
You came here to change your world and the world around you. Now I'd like to tell you about an opportunity to get involved with our strategic plan, Tech Tomorrow — it will give you the chance to work together and with faculty to impact communities around the state and nation.
It's time for a Grand Challenge, described by WhiteHouse.gov as "ambitious but achievable goals that harness science, technology, and innovation to solve important national or global problems, and that have the potential to capture the public's imagination."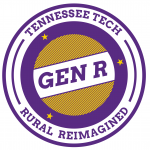 You may not know Tech is centrally located to eight Tennessee counties that have been identified by the state as distressed and in need of expedited transformation and innovation. We know better than any university the challenges rural communities face, so we are launching a plan called "Rural Reimagined" this week.
You will be hearing more about the Rural Reimagined Grand Challenge in the months and years to come, but know that it was inspired by what many of you are already doing inside and outside the classroom — making a difference and solving problems with tenacity and innovation.
You continue to be what our nation needs, the kind of students Peggy Noonan sees: bold, fearless and confident graduates who give us assurance that everything is going to be ok.
Rural Wings Up!
Phil