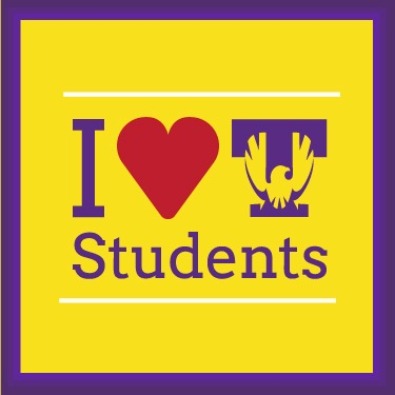 Now that spring break is behind us, final tests are not that far away. But I can already tell you that as a campus, you've made the grade.
Your open doors and open hearts have shown students they are not alone during this pandemic. As faculty and staff, you have mentored, advised and encouraged students through the challenges you are aware they face.
But sometimes students face financial and emotional challenges they don't share. And often it is hard for just one person to lift their burden.
The I Heart Tech Students campaign gives you a way to keep students enrolled in tough times by combining your generosity with others. The power of this campaign is tremendous.
This year, all funds raised go to the Accessible Education Center, Counseling Center, Eagle Assistance Grant, Food Pantry, and Health Services.
There are just a couple of more days to give to this campaign that ends on March 25, but you can help students who need a bridge to the finish line. You can fill the gap they are facing with food insecurity, emotional issues, health concerns, financial pressures and more.
You can choose to give to a specific area or your gift will be used to meet the most urgent needs. Please consider going to http://1915.tntech.edu and learn more about helping students stay in school and finish strong.
Wings Up,
Phil