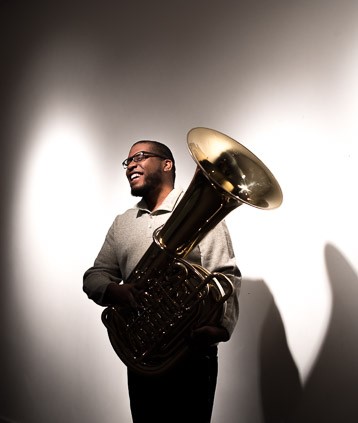 He started out as a trumpet player in sixth grade, but Jalen Talley, '17 music education, always felt more like a tuba player. When his high school band was looking for tuba players, Talley says he "just picked it up and never put it down."
That was his senior year of high school. He knew he wanted to be a musician, but hadn't thought a lot about how it would play out. One of the instructors Talley met through his involvement with band at his high school in Oak Ridge, Tenn. had been a part of the Tech tuba ensemble in the 1980s and told Talley about R. Winston Morris, the university's internationally recognized tuba and euphonium instructor.
"Then I saw a special on TV about him and thought 'I guess this guy really is a big deal,'" Talley said. So, he applied at Tech and auditioned for Morris.
It was a tough audition, Talley said. Morris told Talley he "could play a little," but he saw potential and helped Talley get into the music program.
Since coming to Tech, he has had the opportunity to tour the east coast, play two international performances and perform in Carnegie Hall.
"I didn't know when I applied here that I would be playing in Carnegie Hall before I was 21," Talley said. "No one ever told me that I would get to do all of this. I wouldn't trade it for the world."
And his relationship with Morris is something he finds especially valuable.
"He has taught me everything I know about tuba, everything I use anyway," Talley said, "He is more than a teacher to me. What he has done for me is so much more than that."
Talley's talent is evident in the awards and honors he has received at Tech.
Recently, Talley was the first African-American student to win the Joan Derryberry Memorial Concerto Competition, which allowed him to perform as a soloist with the Bryan Symphony Orchestra.
"I will always be a tuba player," Talley said. "As long as I have it, I will play it. It honestly feels like it was meant to be and that Tech is where I was meant to be."
Source: https://www.tntech.edu/spotlight/student/jalen-talley