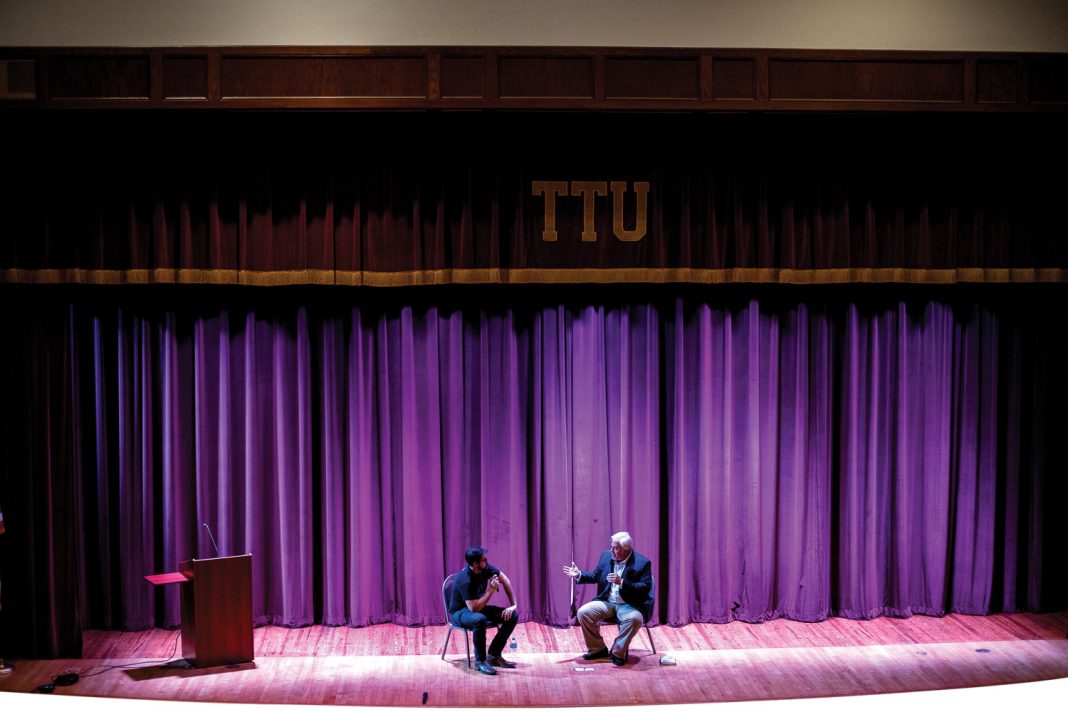 SOUTHERN PERSPECTIVE MIXED WITH LIBERAL POLITICS LAUNCHES COMEDY CAREER
Even in high school, goofing off with his buddies, Trae Crowder, '08 psychology, '09 MBA, knew he wanted to be a comedian. He also never questioned going to college and knew he didn't want to be a "starving artist."
In spring 2016, Crowder took his cell phone and an idea for a video series to the back porch of his Tennessee home and made his first "The Liberal Redneck" video. In his authentic southern accent, Crowder let the internet know just how he felt about a hot political topic of the time: laws set to regulate the use of bathrooms by transgender people. The video went viral getting millions of views and launching Crowder's comedy career to new heights.
Since then, Crowder has done more videos, performed at sold-out venues across the country with fellow southern comedians and tour mates Corey Forrester and Drew Morgan, co-authored the book "The Liberal Redneck Manifesto: Draggin' Dixie Outta the Dark" and moved to California where he is working with Warner Bro. and ABC to write a sitcom loosely based on his life.
A native of Clay County, Tennessee, Crowder was a good student, was encouraged by his family to focus on education and was the first person in his family to graduate from college.
"When I was (at Tennessee Tech), I knew I wanted to pursue comedy and show business and all of that and start getting on stage, but I didn't want to be waiting tables while I was doing it," Crowder said.
He earned his bachelor's degree in psychology with a 4.0 GPA.
"I didn't want to do the starving artist thing. So, I thought 'what is the most versatile degree I could get that would help me get a good job that pays well while I am trying to do this other thing?' and an MBA seemed like the right thing to do at the time."
With his MBA, Crowder was hired by the U.S. Department of Energy in Oak Ridge in 2010. That's when he moved to Knoxville, where he began doing open mic nights while working full-time.
Thanks to the success of "The Liberal Redneck," Crowder has since transitioned to making comedy fulltime work. His videos and his brand of comedy draw heavily from his experiences being raised in the South, but it isn't all about the jokes. Many of the topics Crowder takes on are heavy-hitting political conversations.
"The way I normally describe [The Liberal Redneck] is that it is kind of just me cranked up to 11," Crowder said. "Sometimes people are surprised that it is any kind of character at all, but if I lived my day-to-day life the way I act in those videos, I would be pretty hard to be around. I would be pretty obnoxious.
"I do have a very stereotypically redneck background, and as long as I have been politically interested at all I have leaned left. That's all real, but it still is a character because I don't act exactly that way all of the time."
Since much of his audience is people who take a similar political perspective to his own, Crowder doesn't put too much weight into the notion that he is changing the minds of conservative Southerners with his jokes.
"I have had a lot of people who have told me that I have changed their mind in a different way," Crowder said. "What I mean is somebody in San Francisco telling me that I changed their opinion of people from the South in general."
As his comedy career takes a national stage, Crowder says the Southerner in him does miss being in Tennessee.
"I loved my time [at Tech] and in Cookeville," he said. "I wouldn't change any of that. I will always have a soft spot for it wherever I go."