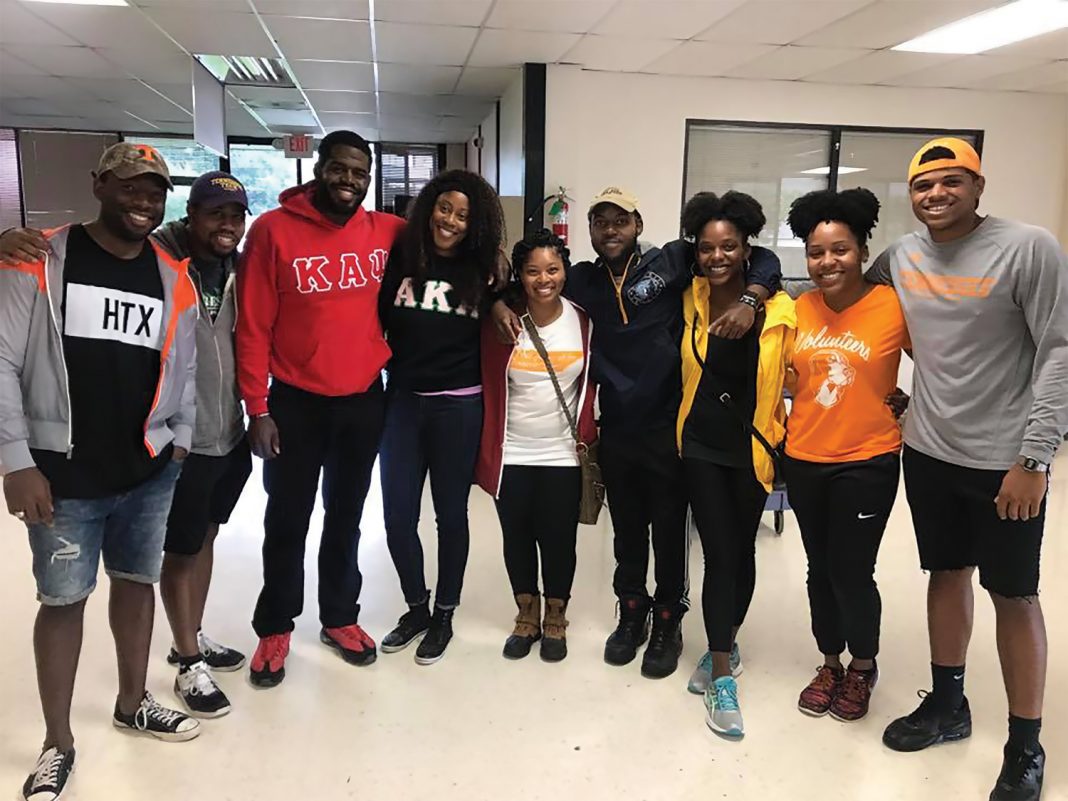 As Hurricane Harvey made landfall as a category four hurricane on Aug. 25, 2017, the country turned eyes toward southeast Texas and watched as more than 50 inches of rain fell near the city of Houston.
"Honestly it made me feel helpless because there was nothing we could do to stop it from happening," Homer Britton, '09 finance, said. "The stories on the news started to repeat."
There was plenty of news to report, too. The strongest hurricane to make landfall in the U.S. since 2005, Harvey was blamed for the deaths of 88 people and the destruction of hundreds of thousands of homes.
Britton, a Nashville native who lives in Houston and works as an IT project manager for a global professional services firm and a CrossFit coach at CrossFit Willowbend in Houston, remembers the flash flood warnings that lasted for days and kept him up at night. Though his own apartment was not damaged, Britton was trapped in his apartment with his girlfriend, Brittney Reives, and dog for five days.
"Unfortunately, a few of my athletes from the gym weren't so lucky," Britton said. "Some lost everything and some just had a lot of water in the house."
As soon as they were able, Britton and Reives gathered a group of friends to do what they could to help and made their way to Westbury Baptist Church.
"I have an athlete who is a member at this church, and it's in the community I coach in," Britton said. "So, we helped at a donation center there."
At a barbeque held at the gym where Britton works, he manned the grill and served meals to more than 100 people. For three days straight, Britton was volunteering in different communities throughout Houston.
"This hurricane made me feel like a Texan for the first time," Britton said. "No matter your race, income or political affiliation, the people of Houston came together. It was really nice to see in these times we are in. It was also nice to show them that Tennesseans know how to volunteer."
Britton was no stranger to giving back. As a student at Tennessee Tech, he was a mentor in the Black Cultural Center, member of the Omicron Phi chapter of the Alpha Phi Alpha fraternity, served with the Student Government Association and helped students get familiar with Tech as part of Student Orientation and Registration.
"The city (of Houston) was not prepared for what happen but we were lucky that so many people came from Louisiana with plenty of boats," Britton said. "People were trapped in their homes by the thousands."
Helping those people and the city he called home felt natural for Britton.
"I just wanted to show people my generation cares about more than just ourselves," Britton said.