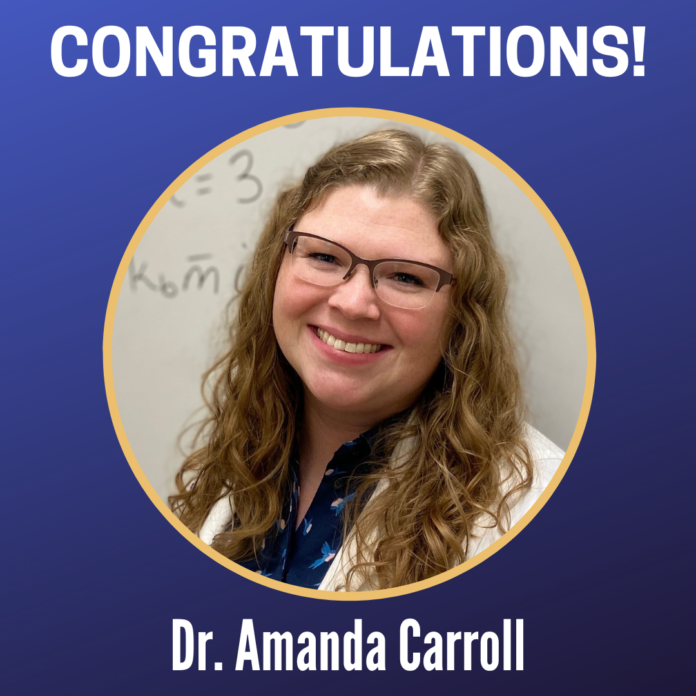 Congratulations Dr. Amanda Carroll! Dr. Michael Adams, the chair of the American Chemical Society (ACS) Committee on Education (SOCED) has invited Dr. Carroll (Chemistry) to serve as the chair of the Undergraduate Student Advisory Board (USAB) beginning in 2023. According to Amanda, "I have gladly accepted this role! I am excited for the opportunity to provide leadership to the advisory board and to continue to shape the knowledge and experiences for students in chemistry programs around the world. As part of the USAB chair responsibilities, I am also now an Associate member of SOCED."
The USAB is charged with providing guidance to ACS Student Communities, making recommendations about the future direction of undergraduate program activities to SOCED, creating programs at ACS meetings, constituting working groups to address specific activities or issues related to undergraduate programs, and supporting the professional growth of undergraduate students in the chemical sciences.
According to Dr. Adams, "Dr. Carroll's experience on USAB and extensive knowledge of issues facing undergraduate education position her well to lead the Advisory Board." Dr. Carroll served two terms on USAB (2018-present) and, during that time, served as program chair and program co-chair for two ACS spring national meeting undergraduate programs. She has also worked on various other programs and events that positively impact students in the chemical sciences.