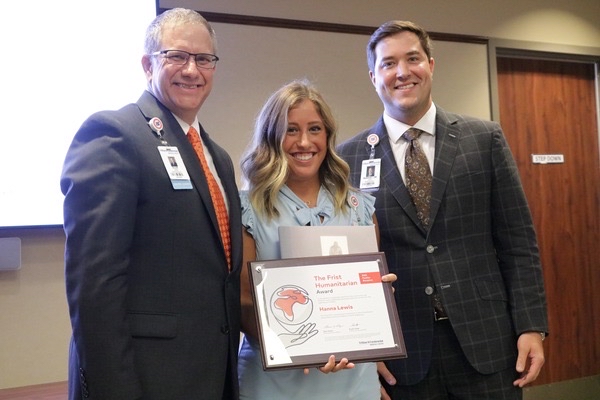 This year's Frist Humanitarian Award Volunteer
winner is Hanna Lewis. Hanna is a Child Life
Volunteer at TriStar Centennial Women's and
Children's Hospital. For the last two years, she has
extended her vibrant spirit and compassion to
patients and families through the hospital. Hanna
began volunteering at the start of the COVID
pandemic. She organized the first Teddy Bear Clinic,
participated in holiday parades outside the hospital,
and added valuable content to our YouTube channel
to provide activities for the children. A very special
story I wish to share is a patient missed an important
football game due to treatment. Hanna immediately
sprang into action. She coordinated three Titans
football players to spend the day with this patient to
support him and give him a wonderful day. Thank you
Hanna for caring for our patients with passion and
dedication. We are honored you choose to volunteer
here at Centennial. Congratulations for being our
2022 Frist Humanitarian Award Volunteer Winner.