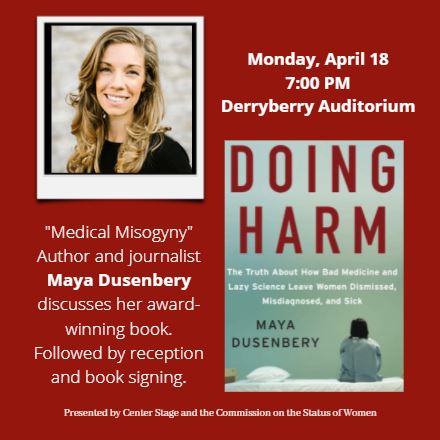 Event postponed until Monday, April 18, 2022.
Center Stage and the Commission on the Status of Women are very excited to present "Medical Misogyny: A Conversation with Maya Dusenbery" on Monday, April 18, 2022 at 7:00 PM in the Derryberry Auditorium. The author will discuss her award-winning book Doing Harm: The Truth About How Bad Medicine and Lazy Science Leaves Women Dismissed, Misdiagnosed, and Sick followed by a Q&A with the audience, reception, and book signing.
https://www.tntech.edu/centerstage
About the Author:
Maya Dusenbery is a journalist, editor, and author. Her book Doing Harm was a New York Times Editors' Choice pick and the winner of the 2019 Minnesota Book Award for general nonfiction. She has been a guest on NPR, Good Morning America, and a variety of podcasts and radio programs to discuss her book, medical misogyny, and reproductive issues. Formerly the editorial director of the feminist blog Feministing.com, Maya has written for publications including the New York Times Magazine, Scientific American, Slate, Mother Jones, and Pacific Standard. She regularly speaks about gender bias in medicine to students, health care providers, patient advocates, and researchers.