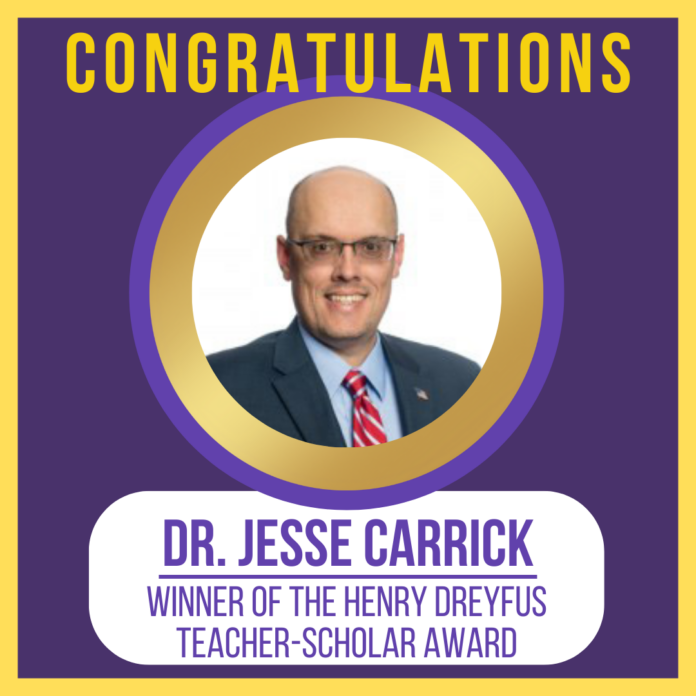 Dr. Jesse Carrick has been named a Henry Dreyfus Teacher-Scholar. The award is based on accomplishment in scholarly research with undergraduates, as well as a compelling commitment to teaching, and provides an unrestricted research grant of $75,000. Carrick is one of only 8 nation-wide to receive this award. Nominees must be engaged in research and teaching primarily with undergraduates. Institutions may submit only one Henry Dreyfus nomination annually.
Carrick's research is entitled, "Synthetic Approaches to Minor Actinide Separations from Lanthanides Contained within Spent Nuclear Fuel."
The Camille & Henry Dreyfus Foundation is dedicated to the advancement of the chemical sciences. Established in 1946 by chemist, inventor, and businessman Camille Dreyfus as a memorial to his brother Henry, the Foundation became a memorial to both men when Camille Dreyfus died in 1956. Throughout its history the Foundation has sought to take the lead in identifying and addressing needs and opportunities in the chemical sciences through a series of programs and awards.
Congratulations, Dr. Carrick!