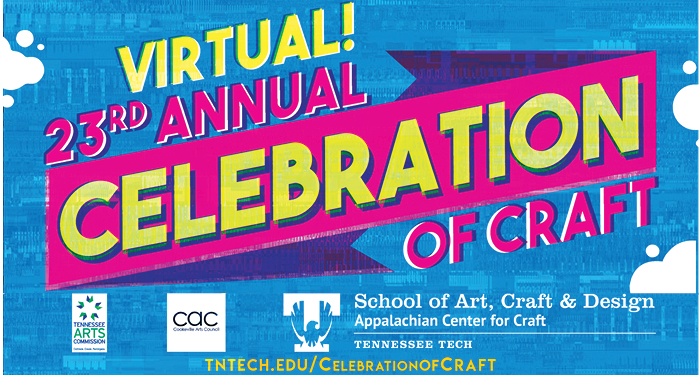 Most of Celebration of Craft is virtual this year, but the annual 25% discount in the Craft Center Gallery is available both in-person and online! All handmade items (with the exception of exhibitions) will be available for the 25% discount Saturday, April 10, 10 a.m. – 5 p.m. in person. The online 25% discount is available Saturday and Sunday, April 10-11.
All demonstrations will be livestreamed through Facebook @tntechcraftcenter. Glass blowing begins at 10 a.m.; blacksmithing, 11 a.m.; clay, 12 p.m.; fibers, 1 p.m. and wood, 2 p.m. Watch from the comfort of your home or anywhere on your phone, i-pad, computer or big screen!
Kids' Craft activities are available in a kit to take home. Pick up the kits now in our Gallery, at the Putnam County Library, and April 7, 4-6 p.m. in Dogwood Park.
Don't forget the "Not an Auction Sale!" Artist donated pieces are available online now at deeply discounted prices. You can pick them up or have them shipped. Shop here: https://epay.tntech.edu/C20205_ustores/web/store_main.jsp?STOREID=186
More information is available at tntech.edu/celebrationofcraft.