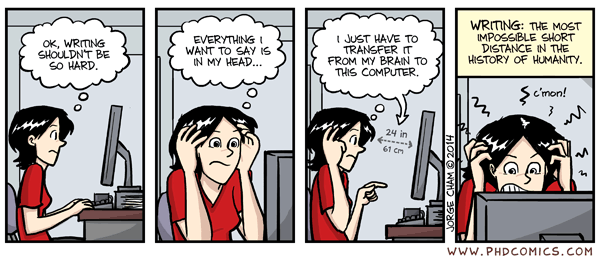 While writer's block can affect all of us at various times, it is no longer some insurmountable menace that we can't overcome. Whether you're worried about what you're writing, trying too hard to be perfect, or just lose inspiration, rest assured that you're normal. There are also plenty of ways in which you can overcome your block quickly without getting too stressed. There's no longer any reason to panic or miss you deadline, as you can just try out the following 7 ways to get over your writer's block and get back to your craft.
1.     Move Around
Sometimes you get writers block because you just can't see further. Changing your environment by heading to a coffee shop, a library, or even just another room in your house can provide a fresh perspective.
2.     Find another Outlet
Sometimes you just need to put down the pen and take a break from writing. However, you'll recover from your block quicker by indulging in another creative outlet.
3.     Make the Most of Online Tools and Resources for Writing and Editing
Online tools for writing and editing can make a huge difference in overcoming your writer's block. They can spark your inspiration, or at the very least help you sift through what you already have and find something great to work with. The following tools are some of the most useful:
4.     Move Your Body
If you want your brain to be full of energy, you need to work on your body too, and getting some fresh air, moving around, whether it's yoga, dance, boxing, or hiking, can really clear your head, and help you gain a fresh perspective and point of view.
5.     Start Early
You may need to edit this writing heavily, but starting super early can leave you in a dream-like state where thoughts just spill over from your brain.
6.     Turn Off You Phone
You'll need to get rid of all distractions, but the easiest one to eliminate is your cell phone.
7.     Always Have a Notepad
Inspiration could hit you anywhere, so make sure you can write them down and get to work when you get home.
Writer's block can prove to be a massive struggle for anyone trying to hammer out a career, or get through a degree, but following the above tips can help you break through it quickly and effectively.