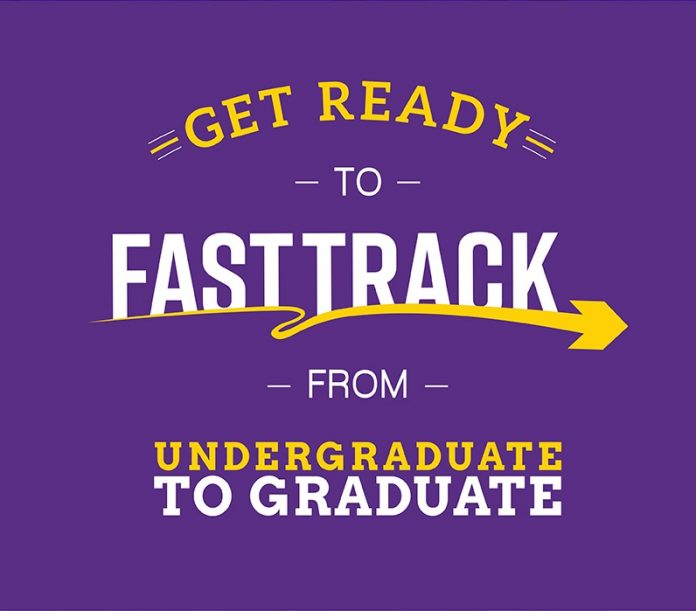 Did you know you can get a head start on your master's degree with the Fast Track Program?
The Fast Track Program is designed to enable undergraduates to accumulate up to six credit hours of graduate coursework, to satisfy both the undergraduate and graduate degree requirements, while still pursuing their undergraduate degree. The coursework will enable an efficient graduate program transition with the potential for accelerated completion.
The Fast Track B.S. to M.S./M.A. Program is open to all students. It will create a cohesive and supportive learning community for a diverse range of student populations that will assist them in the attainment of a bachelor's degree with the immediate transition into a master's program.
Benefits of the Fast Track Program
Improves chances of getting into graduate school
Allows students to more quickly complete their undergraduate and graduate degrees
Creates a clear path for goals and helps guide other class choices
Allows undergraduate students to interact with graduate students and teachers to get a better feel for graduate school
Graduate coursework will be more intensive and allow Fast Track students to experience projects and assignments that align more closely with work projects in their chosen career path
Allows undergraduate students to have more hands-on experience
How Much Does the Fast Track Cost
Fast Track can save you around $500 per each three hour course that you take. Additionally, Curriculum and Instruction and Counseling and Psychology waive the GRE admission requirement, which saves you over $200 per test taken.
How Do I Get Started on Fast Track?
Meet with an advisor to determine Fast Track program eligibility
If you are eligible, your advisor will have you fill out a request for Fast Track Course Credit Form
If you are accepted into the program, you will receive a Notice of Acceptance Form
Bring the Notice of Acceptance Form to the college of Graduate Studies to be signed and processed.
Bring the Notice of Acceptance Form to the Records and Registration Office for processing
Current Programs in the Fast Track Program
Business Administration
Chemistry
Chemical Engineering
Civil & Environmental Engineering
Counseling & Psychology
Computer Science
Curriculum & Instruction
Electrical & Computer Engineering
English
Mathematics
Mechanical Engineering
Professional Science Masters Environmental Informatics Concentration