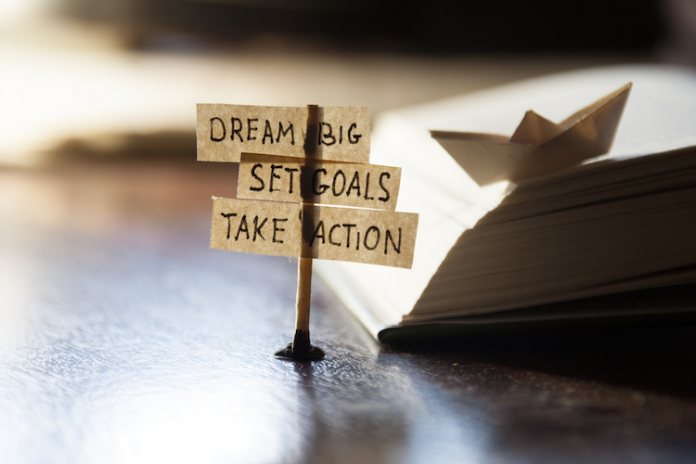 Have you ever made New Year's resolutions that you failed to follow through with? If so, you're not alone. Evidence suggests that roughly 60 percent of people abandon their grand plans for the upcoming year within six months of making them. Surprisingly, the trick to sticking with your goals may be simpler than you think. According to Dr. Gail Matthews, a psychology professor at Dominican University in California, people are 42% more likely to carry out their goals just by writing them down.
Writing down your goals is a useful practice because it helps you determine and prioritize what you want out of life, says Michael Hyatt, co-author of Living Forward: A Proven Plan to Stop Drifting and Get the Life You Want. The idea is that once you write down a goal and analyze what you've written, you'll have a better understanding of the scope of your goal, and you'll likely think in more depth about how you should follow through with it.
While it may be motivating to see what you want on paper, it is important that the goal can be measured and is realistic. Ashley Feinstein, author of the how-to guide "30 Days to Financial Bliss", suggests creating a feasible timeframe and measurable details, so you know exactly when a goal has been achieved. Writing down your goals will also allow you to monitor your progress. You'll be able to see where you've been, where you're going, and make revisions for your progress.
If your goal is to lose weight, carry around a food and exercise booklet. Write down what you eat, how many calories those items are, how many miles you walked in the day, and other fitness-related goals. If your goal is to write your first hit as a songwriter, carry around a journal just for your lyrics, witty one-liners that would work well for later use, etc. If your goal is to complete an IT certification within the next six months, make a schedule for yourself with a set goal in mind for progress.
While writing down a goal doesn't guarantee that you will accomplish it, it greatly increases the odds. A study carried out through Harvard University's MBA program also found that students who wrote down their goals tended to be more successful in their careers than students who didn't. So go to your favorite stationary store, grab a nice pen and a few notebooks, and start writing.