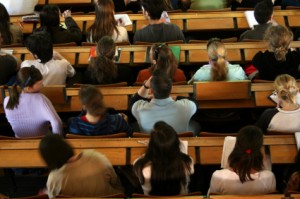 Starting graduate school can be stressful and intimidating, whether you are just completing your undergraduate work or going back to school after a period of time in the 'real world'. To combat this feeling of uncertainty, I have found that students are likely to be happier and more successful if they focus their efforts. Here are five keys to help you be more focused and purposeful in graduate school:
1.  Become an Expert Now 
The challenge many students face is whether to graduate as a generalist or as a specialist. Dan Schwabel makes the case to think of yourself as both.  For example, a law student should strive to become an excellent generalist attorney, which requires developing overall legal acumen (e.g. learn how to draft contracts, interact with clients, craft arguments, etc.). However, aspiring attorneys must also look into a few specific areas of practice (e.g. real estate law, family law, etc.) to begin assessing what area of law is most appealing to pursue as a career.
2.  Be Learning-Centric
You may have heard the expression "the joy is in the journey". In graduate school, instead of putting all your focus on good grades (which are, admittedly, important), consider also addressing the question: "How will this class or assignment help make me be a better practitioner?" View your instructor a partner in answering these questions, someone who can assist you at multiple points during your journey of building a productive and satisfying career.
3.  Rethink the Way You Learn (from Pedagogy to Andragogy)
In the years preceding graduate school, students are often spoon-fed information from a subject matter expert (teacher), then asked to regurgitate it for tests. In graduate school, depending on your discipline, you may be expected to contribute content based on your experience. Come to class ready to discuss and apply experiences you've faced in and out of the classroom. Facts are always important, but your ability to think about their relevance and application in various contexts is what will truly help you stand out as a professional.
4.  Practice, Practice, Practice
Theoretical methodologies certainly have their place in the learning process; however, practice is where the greatest learning occurs. Herminia Ibarra states: "To launch ourselves anew, we need to get out of our heads. We need to act." Seek opportunities where you can apply your newly-acquired skills (Ibarra calls these moments "experiments") immediately. Experiments include volunteering, part-time gigs, taking on project work, temporary assignments, etc. These application-based experiences are also great to help build your resume.
5.  Build Relationships
By attending graduate school you are developing your new identity. Making connections with your fellow students and professionals in your chosen field will open doors to employment, resources, and lead to new, unique experiences. Take the time to start building relationships with professors, fellow students, and the professionals in your field now. You won't ever be sorry you did this.
Good luck and remember: your career, like every other aspect of your life, is a journey. Just by enrolling in graduate school, you have made a huge leap forward in developing your professional brand and expertise.