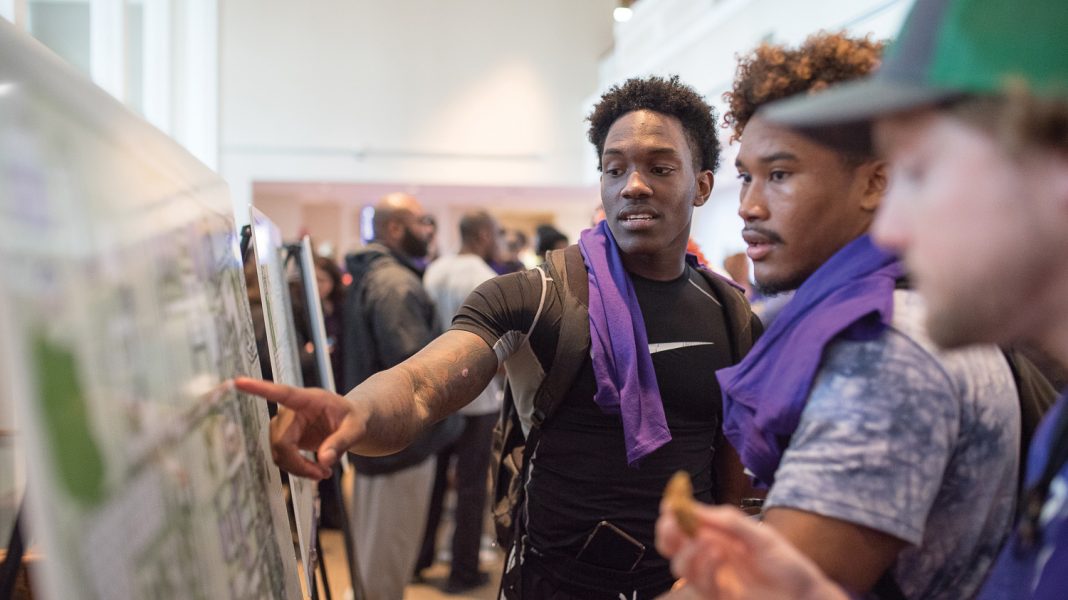 Bold. Fearless. Confident.
Those three words echoed the sentiment of university officials, faculty, staff and students as the future of Tennessee Tech was unveiled during an event last spring at the Bryan Fine Arts building.
Tennessee Tech Tomorrow showcased recent achievements and future plans that positively impact the student experience. The event featured displays and information about new buildings, student and faculty research, outreach and fundraising.
"There's nothing too bold and nothing too big for Tennessee Tech University," said President Phil Oldham to those in attendance. "Don't wait for someone to tell you what to do next. Don't sit on the dock and wait for the ship. Row out and meet it. Be Bold. Fearless. Confident."
Kevin Braswell, Tech's vice president for advancement, also proposed a challenge for the university. He announced an ambitious fundraising goal of $60 million by 2021. So far more than $49 million has been raised thanks to several gifts, including the Oakley Farm by Millard and J.J. Oakley.
"Together, we can build classrooms, computer and simulation labs, and athletics facilities. We can build academic programs, a stronger faculty and scholarship support," Braswell said. "With your help, we can build not only what we are able to, but also what we dream of."
Tech's footprint toward the future was previewed with renderings of the new student recreation center, the new lab science building, the renovation to Jere Whitson Hall and potential lengthening of the Golden Eagle Golf Club.
"Tech gave me vision. Tech gave me credentials. Tech gave me enthusiasm for learning that allowed me to be successful in business," said Trudy Harper, vice chair of Tennessee Tech's Board of Trustees. "I see students here now who are hungry, energetic, very bright and incredibly hard working. They have one goal in mind and that is to get a degree. What they really want to do is make a difference in the world."
Attendees of the event got a first-hand look at research and projects created by Tech's faculty and students. From the innovative iCube, to nursing's SimMan patient simulator, to cutting edge technology from the computer science and engineering department, the academic approach to the future looks bright for Tech.
"For the past 100 years, Tech has been the place for hard working, purposeful students and faculty," said Alex Martin, then-president of the student government association. "Tennessee Tech tomorrow will happen because we are hard working people who are learning to become bold, fearless and confident here."