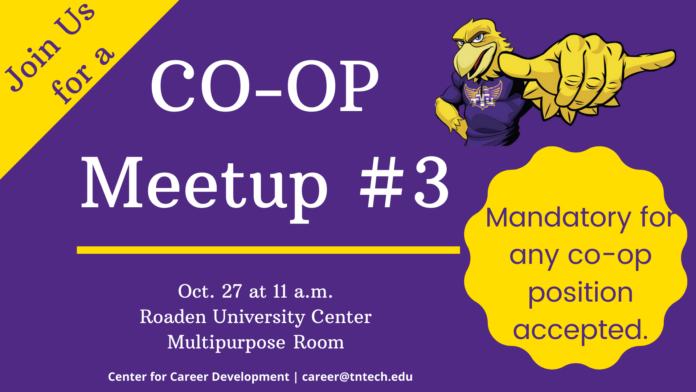 Did you accept a cooperative education position with an employer recently? Do you know if your Internship requires you to enroll in Co-op?  If you accepted a co-op or are planning to in the near future, attend the Co-op Meetup on Tuesday, Oct. 27, at 11 a.m. in the Roaden University Center Multipurpose Room (2nd floor). Any student interested in or accepting a Cooperative Education position with an employer MUST attend a Co-op Meetup. The Co-op Meetup is an information session explaining the new eligibility guidelines, which can be found at: https://www.tntech.edu/career/students/coop-eligibility.php.
Bring your Eagle Card for quick sign-in.
There will be a virtual option through TEAMS. You will need to register for this event at the link listed below to receive the Virtual Co-op Meetup #3 TEAMS URL. Please ensure you have the TEAMS app loaded before you attempt to join the virtual meeting.
https://tntech.joinhandshake.com/events/596968/share_preview
There will be one last Co-op Meetup this semester, which will be on Monday, Nov. 2, at 5 p.m. in the RUC Multipurpose Room.
Center for Career Development
career@tntech.edu
(931) 372-3232