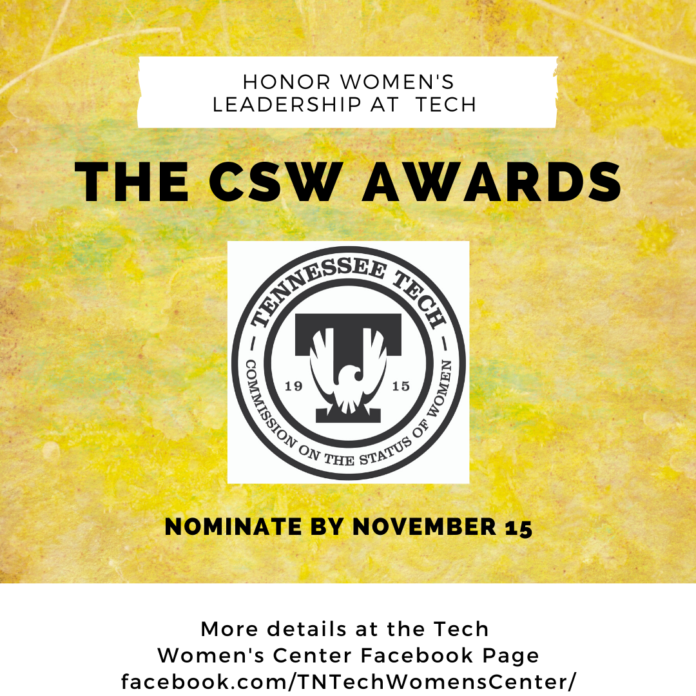 Tech's Commission for the Status of Women seeks nominations (submit by Nov. 15) for two awards:
The Alison Piepmeier Outstanding Student Award
This award celebrates Piepmeier's legacy of fierce feminism by recognizing an exceptional Tennessee Tech student whose research, activism and/or outreach advances gender equity. It acknowledges a student who shows a passion for learning, goes the extra mile to assist others, and contributes significantly to campus and/or local the community.
Nominate at https://tntech.co1.qualtrics.com/jfe/form/SV_bwiSeAM0sZ4Fld3.
The CSW Excellence Award
This award is presented annually to an individual employed by Tennessee Tech University who has contributed significantly to gender equity. The award honors three qualities that characterize the tradition of women's leadership at Tech: perseverance, generosity and mentorship. The award celebrates the efforts of Tennessee Tech employees to provide ongoing leadership and mentoring for the campus community and work towards gender equity for all.
Nominate at https://tntech.co1.qualtrics.com/jfe/form/SV_5dRW3StTxC8eTJ3.
See Tech's Women's Center's Facebook page or email Helen Hunt (hhunt@tntech.edu) for more info.