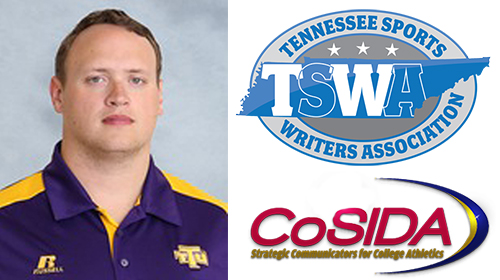 Thomas Corhern, a sports information coordinator in the Tennessee Tech Department of Athletics, was recently recognized by the College Sports Information Directors of America and the Tennessee Sports Writers Association in their recent writing contests.
Corhern took first place in CoSIDA's Fred S. Stabley Writing Contest in Division 4, which includes colleges and universities in Michigan, Ohio, Kentucky, Tennessee and Alabama, in the Event Coverage division and the winning entry — on Barry Wilmore receiving the NCAA's highest honor, the Theodore Roosevelt Award — was also in the running for national consideration as a district winner.
The 2005 Tech graduate in Interdisciplinary Studies also swept the sports information division in the TSWA contest, receiving top honors in Best Event Coverage, including stories on a thrilling Tech softball sweep and head football coach Dewayne Alexander earning his first win, as well as Best Feature Writer, with stories on track and field's Micayla Rennick sweeping the Ohio Valley Conference's Athlete of the Championship awards in the indoor and outdoor meets and Tech women's basketball's goal to reclaim its championship tradition.