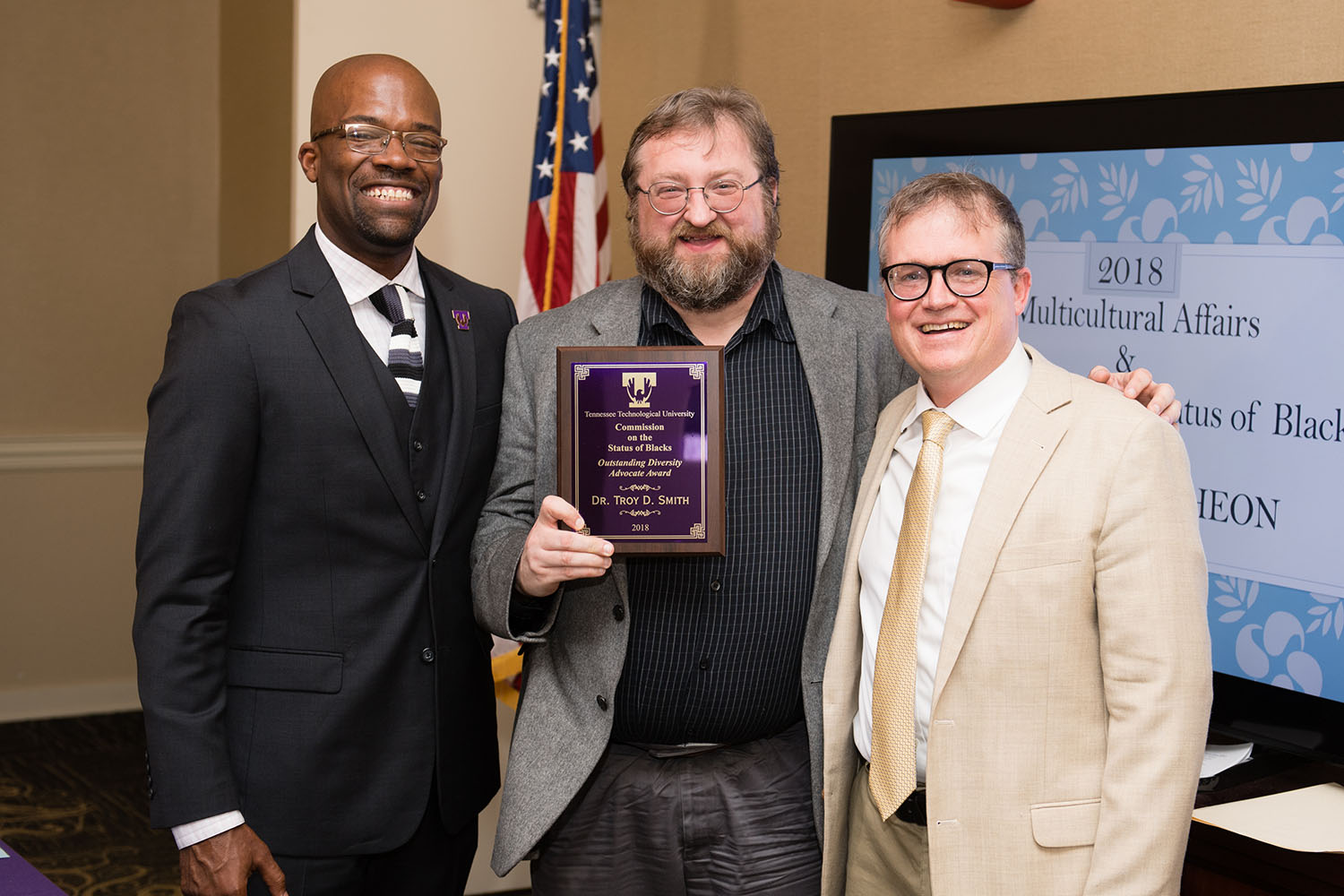 Troy Smith, assistant professor of history, received the 2018 Outstanding Diversity Advocate Award from the Tennessee Tech Commission on the Status of Blacks.
"I was very honored," Smith said. "Such an award is deeply meaningful to me, as my Ph.D. and research is in the history of race and ethnicity in the U.S."
In explaining the importance of diversity at Tech, Smith feels it is a core part of what a university should do.
"A university education should include exposure to many different types of people and cultures, and should be available to a community comprised of many different types of people," Smith explained. "There is a Lakota expression: mitakuye oyasin, which literally means 'all my relations.' It carries the meaning that the speaker is related to everyone and everything. The universe is like a spider web – when one strand is disturbed, the whole web vibrates. We are all connected."
Andrew Smith, an English instructor and the award's 2015 recipient, presented the honor at the Office of Multicultural Affairs Minority Student Awards Luncheon.
"Troy is the kind of person who defines what academics call 'intersectional,' as evidenced by his work in Native American and African American scholarship, alongside labor and environmental history," said Andrew Smith, English instructor and member of the commission. "He is also a great friend and colleague."
Since arriving at Tech in 2011, Troy Smith has participated in several diversity-related events on campus and in the community.
As a scholar of race in U.S. history, particularly focused on Native American and African American research, he is frequently involved in discussions and activities centered on those cultures and histories. In 2015, he co-led a student group to the 50th anniversary of Bloody Sunday at Selma, Alabama, and has been involved in many Black History Month events the past two years – including participation in a round table discussion about race. This week, Troy Smith and Andrew Smith are leading a group of 50 faculty, staff and students to the commemoration of Martin Luther King's assassination in Memphis.
Troy has given guest lectures to churches in the area about King and the black church tradition, and was a speaker at a MLK Day rally on the square in Cookeville in 2014. He has spoken at the Rotary Club, the public library and several other venues about the black Union soldiers recruited in the Upper Cumberland, and has appeared several times on various local radio programs and in local newspapers to discuss Native American or African American issues.
He helped organize the Native American Heritage Month event on campus in 2017, helped design a virtual reality Cherokee village for the iCube, served on the board of directors of the Standing Stone American Indian Cultural Center, and has been the guest multiple times at New Hall North's WakeUp Wednesdays engaging students in discussions of diversity related topics.