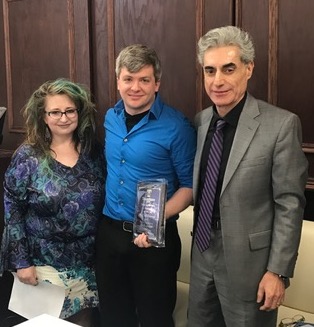 A mixture of Tennessee Tech faculty and staff were recognized recently for their efforts on campus. The Tech Togetherness Awards were handed out during a luncheon reception held by Provost Bahman Ghorashi.
"We are so appreciative of the efforts of our Tech Togetherness Award winners," said Provost Ghorashi. "These awards were established as a way to bring the campus community together and I truly believe that it has been a success. We are very proud of the wonderful things happening all over campus and the efforts of all of our colleagues who are involved in making Tech Togetherness a success."
The winners for 2017 included Corinne Johnson: Unsung Hero; Sarah Farris: Most Team Player; Chad Rezsnyak: Most Encouraging Faculty and Staff Award; Rodley Pineda: Most Friendly; Elizabeth Honeycutt: Most Inviting Office; and, Susan Piras: Most Initiative.
Each year the Tech Togetherness Initiate has two major events: Heating Up the Quad in the fall and the awards luncheon in the spring. At the luncheon, each award winner was accompanied by the person who nominated them.
"Today, we had the nominees to read the initial submission to the winners of why they selected them for the award," said EXPW associate professor Lanise Rosemond. "Today was filled with a lot of tears, laughs and hugs.  This is what Tech Togetherness is all about, bringing people together and celebrating each other at Tech."