A new 'Express Route' for the campus shuttle system has been established for this semester. This 10-minute loop from the West Campus Parking lots to the center of campus at the corner of University Drive and Peachtree Avenue replaces the former Gold Route in order to get a maximum number of passengers from the exterior of campus to the center. The Express shuttle will also stop at the intersection of University Drive and Whitney Avenue.
T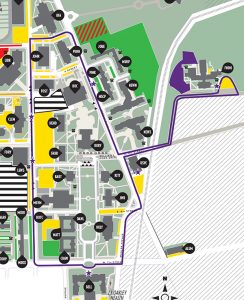 he former Purple Route has been modified to become a continuous loop around campus, starting at the bus stop at Clement Hall, with stops at Bell Hall, University Services Building, Foundation Hall and the Roaden University Center.
Both routes run Monday through Friday, 6:45 a.m. to 5 p.m.