Carol Holley in academic affairs has received Tennessee Tech's Ambassador of the Month Award for March.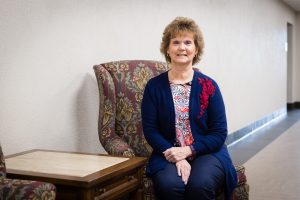 With many years of experience at the university, Holley is seen by her colleagues as knowledgeable, helpful and a team player.
"She helps many departments and individuals on campus with any questions at any given time and is always willing to help in additional areas and go beyond her job to make sure their questions are answered," said Karin Gilbert. "Carol is truly an asset to this University and is also one of the kindest people I know on campus."
Her willingness to go above and beyond her job requirements has left an impression on other university staff.
"It is very helpful to know whom to call when something is needed," said Rachel Starnes in nominating Holley for the award. "Over the years Carol's helpfulness has remained constant, and her knowledge base has grown. She is extremely professional, helpful, courteous, and knowledgeable."