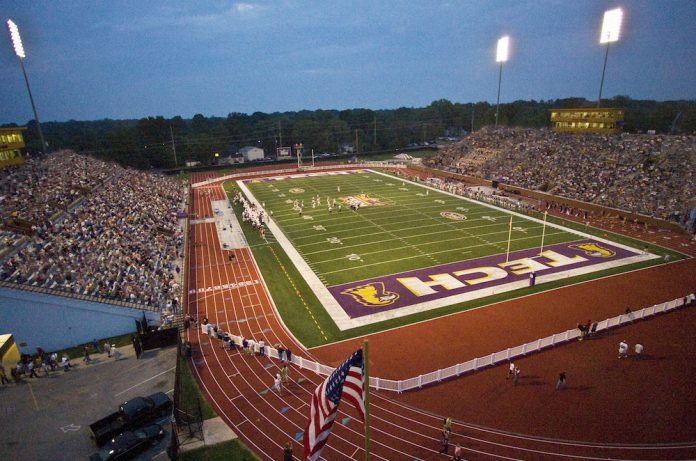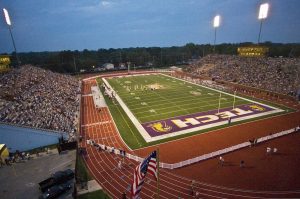 The TSSAA Blue Cross Bowl state championship football games will be hosted on Tennessee Tech's campus Thursday, Friday and Saturday, Nov. 30, Dec. 1 and Dec. 2 at Tucker Stadium. Games will be held at 11 a.m., 3 p.m. and 7 p.m. each of the three days, which is different than years past when only two games were played on Thursday.
Faculty, staff and students will experience different parking arrangements during these three days. Students, faculty and staff are encouraged to carpool and/or make alternative travel arrangements to campus on these dates.
The parking lots near Tucker Stadium, Volpe Library, Bryan Fine Arts and Johnson Hall will be barricaded and reserved for championship visitors who pay to park in this area. All other parking lots will remain open for faculty, staff and students based on hangtags and will be first come, first served.
TSSAA volunteer parking teams will be monitoring lots and collecting money from visitors paying to park in dedicated campus lots.
To see a map of reserved championship parking spaces, visit
http://www.tntech.edu/assets/images/tssaa_parking_map.pdf
Parking will be available behind Tech Village, at the Athletic Performance Center and at Foundation Hall with shuttle service.
Where Not to Park
Please park in permit areas only. Please do not park on the grass, in fire lanes or other areas not normally designated as parking. Handicap parking will still require a designated handicap tag. Do not block service or mail spots.
More Information about TSSAA Event
Visit http://www.cookevillechampions.com for more information about the TSSAA BlueCross Bowl.
Any questions about the event can be referred to the Cookeville/Putnam Chamber of Commerce at 931-526-2211.343