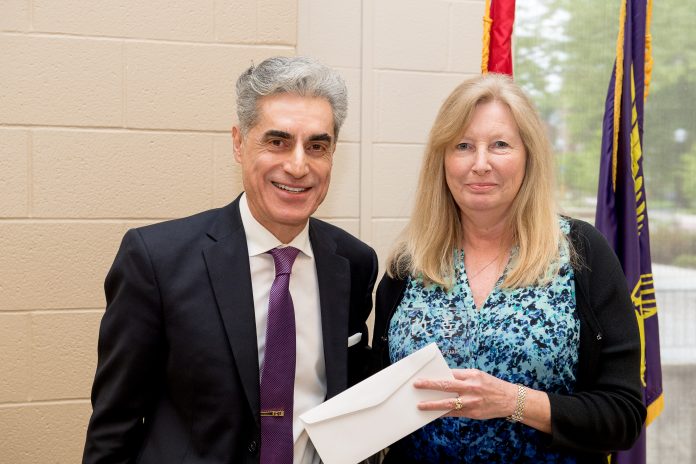 Staff at Tennessee Tech were recognized for the small things they do that add up to big differences for the campus with the Kaizen Awards.
Selected by the Office of Provost Bahman Ghorashi, four staff members were presented with a plaque and monetary reward for their efforts.
"Kaizen allows us to recognize staff who make small contributions, incremental in nature, but ultimately as a whole, they have a tremendous effect on the efficiency and productivity of the institution," Ghorasi said.
Winning a first-place Kaizen Award was Patricia Pasquale from the Department of Music. Among the work Pasquale has done to warrant the award, those who nominated her highlighted her diligent communications with area band directors, establishing forms for department use and finding ways to make the university's policy regarding minors on campus easier to manage.

Alisha Looper in the College of Education's Student Success Center received a second-place Kaizen Award. Nominators noted Looper's efforts to arrange the office to make it more inviting for visiting students and parents and making advisement sign in and recordkeeping more efficient.
A Kaizen Award was also presented to Cody Bryant in the Office of Communications and Marketing, in third place. Bryant took the lead to organize the department's server system, making it easier to find digital files, and led the department through the implementation of several project management tools.
Vickie Mayberry in the Mathematics Department received a fourth-place Kaizen Award for her work on initiatives such as developing a process for students to send letters of thanks to those who endow scholarships.
Award winners were recognized at the April Luncheon Forum.