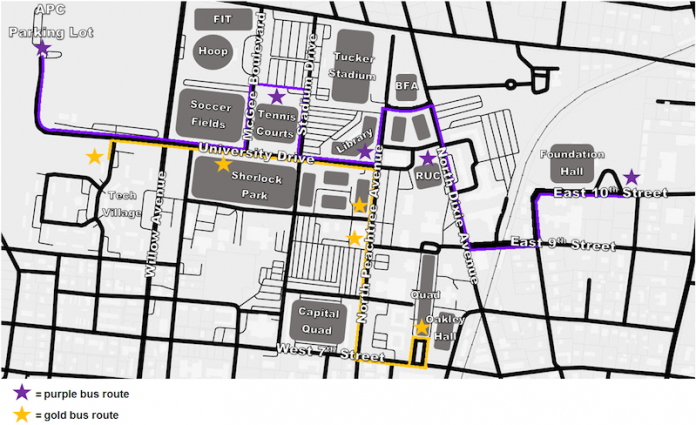 The two new shuttle routes will begin on Thursday, Aug. 18. The shuttles will run Monday through Friday, 6:45 a.m. to 5 p.m., when classes are in session for the fall and spring semesters.
The shuttles will stop at designated stops (stars on the map), with five on each route.
The purple route primarily transverses the campus east to west, starting at the Athletic Performance Center  in the west and proceeding to Foundation Hall in the east. The gold route originates at the new parking lot near Tech Village and proceeds to the southern end of the Main Quad.
The new shuttle routes are part of the restructured parking plan, which establishes zoned parking for faculty, staff and students. Enforcement of the parking zones starts Monday, Aug. 22.
Zone parking is enforced between 7:30 a.m. to 4:30 p.m., Monday through Friday, when classes are in session. All other times, vehicles may park in any non-designated space on campus, with the exception of Green Zone lots, which are enforced 24/7. All vehicles parked on campus are required to have a valid parking permit.